Lighting the Way to Readiness and Mitigation
2023 Ransomware Preparedness – ESG eBook
Ransomware is the New Normal
IIn today's digital age, ransomware has become an alarming and prevalent issue that most organizations have encountered within the last 12 months and is widely considered a critical and existential threat to the viability of any business.
Enterprise Strategy Group conducted a survey of over 600 organizations to gain further insights into what proactive and reactive measures organizations have in place to defend against ransomware.
Read more about:
The

state of ransomware mitigation best practices

across readiness, prevention response and recovery phases

Organizations priorities and plans

associated with mitigating ransomware in the coming 12-18 months

The

top 10 requirements

on which ransomware recovery solutions need to deliver
Download this valuable eBook now—it's free!
Ransomware Attacks Go Beyond Just Data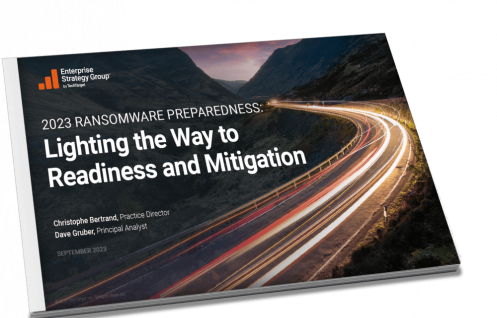 Ransomware continues to be top-of-mind as potentially devastating to organizations of all types. It can incapacitate the operation in a multitude of complex and ever evolving ways. Through advancing new recovery strategies and solutions such as air-gapping and immutability, organizations can and must expand and optimize their recovery capabilities and service levels.
It's crucial to acknowledge that ransomware poses a significant and immediate threat that cannot be ignored, and that immediate action must be taken to combat it. This ESG eBook examines how organizations must expand the focus beyond just protecting data and turn their attention to also leveraging the advanced capabilities of their recovery infrastructure solutions to minimize harmful impact to the business.
Get better prepared against ransomware with this ESG eBook. Read more about balancing ransomware prevention controls with the right data recovery method.