Integration with Zerto: Solutions that Deliver More
Learn how to use Zerto with everything from cybersecurity software to S3-compatible repositories
End-to-End Protection Against Ransomware with Zerto & Fortinet
Protect what matters most with Fortinet for prevention & detection backed by Zerto's industry leading recoverability.
Why Integrate with Zerto?
Zerto, a Hewlett Packard Enterprise company, empowers customers to run an always-on business by simplifying continuous data protection (CDP), recovery, and mobility of on-premises and cloud applications. Zerto eliminates the risk and complexity of modernization and cloud adoption across private, public, and hybrid deployments. The simple, software-only solution uses continuous data protection at scale to solve for ransomware resilience, disaster recovery, and multi-cloud mobility.
Zerto is trusted by over 9,500 customers globally and is powering offerings for Amazon, Google, IBM, Microsoft, and Oracle and more than 350 managed service providers. These strategic partnerships allow Zerto to combine industry-leading technologies together and provide solution briefs for customers to showcase the enhanced capabilities of the combined solutions.
Distributed storage and immutability are playing more of a critical role in fighting against ransomware. Ransomware is a type of malware that encrypts a user's files and demands payment in exchange for the decryption key. This type of attack is becoming increasingly common and can cause significant harm to individuals, businesses, and organizations.
Mantle SDS complements Zerto's Extended Journal Copies with secure, distributed Ransomware-Proof storage. Take advantage of infrastructure sovereignty by sending parsed copies to multiple immutable S3 compatible cloud-based repositories with a simple change to a few lines of code.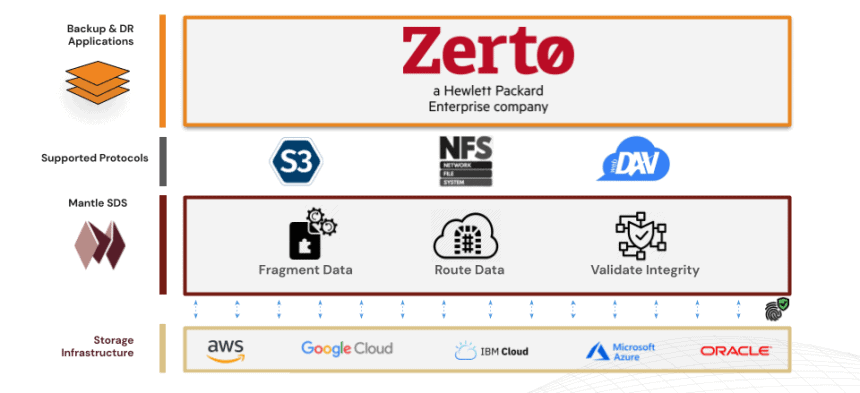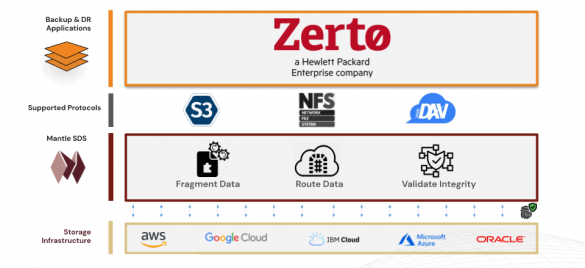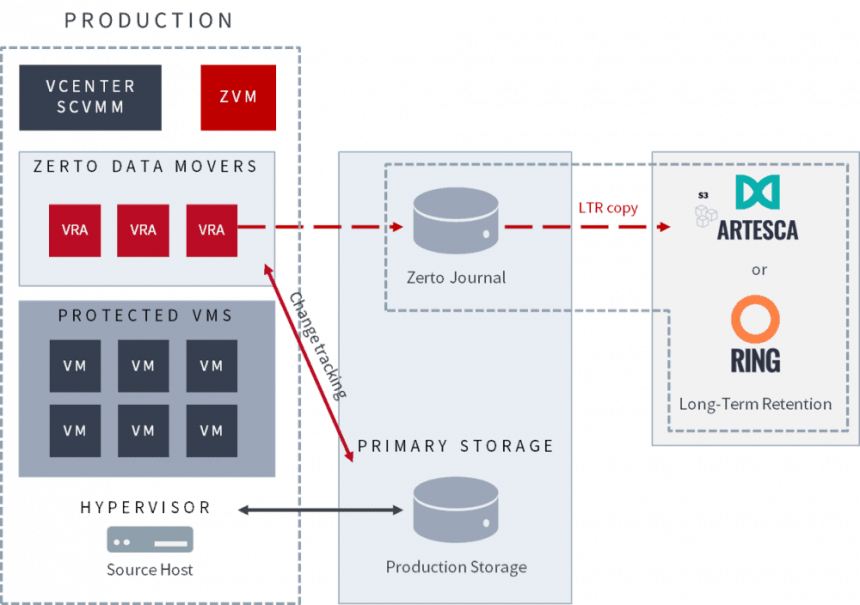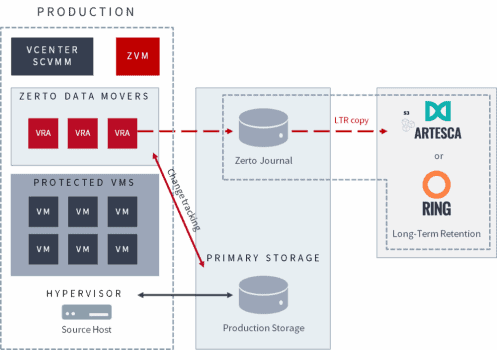 Ransomware is a type of malicious software designed to infect your infrastructure and encrypt your data until a sum of money is paid. The threat from ransomware is a major, ubiquitous concern. Attacks are increasing in frequency, scope, and sophistication.
Together, Scality and Zerto combat these attacks by supporting data immutability through the Amazon S3 Object Lock capability, which prevents data from being deleted or overwritten, thereby thwarting ransomware attacks.
Zerto's open REST API enables integrating the solution with a wide variety of 3rd party tools and platforms, including those for security, logging, monitoring, and IT service management such as ServiceNow.
Use cases can include creation of protection groups or deployment of Zerto components when new hosts are deployed in a cluster.
With Zerto and Morpheus, IT teams can easily deploy and protect their hybrid infrastructure across on-premises and cloud platforms.
As business requirements expand and IT adopts new technologies, the solutions from Zerto and Morpheus allow for rapid application deployment and infrastructure resilience while minimizing the tools IT teams need to leverage.
Zerto brings together disaster recovery and data protection. It provides a single, scalable solution provides simple cloud data management and protection across on-premises, hybrid, and multi-cloud environments.
You can use Zerto with Storj DCS S3-compatible storage, which offers decentralized storage with unique security architecture and performance.
Zerto Benefits:
Robust Swagger APIs & Easy S3-Compatibility
Take a tour of our solution to learn about Zerto's features and benefits for yourself.
Want to give Zerto a try? Get a free 14-day license or access to our on-demand labs.
Powershell User? We Have Scripts for That.
Check out our templated scripts for PowerShell users to get started codifying Zerto today!
Check Out Our GitHub Page!
We love to engage and get feedback from our community! Check out our GitHub page to contribute to projects and more!