Data Migrations & Workload Mobility
The migration of data and workloads is evolving as many IT departments seek to drive efficiency and build cloud adoption strategies by utilizing different hypervisors and storage in private data centers, or by migrating to hybrid and public clouds. The need for seamless data migration and workload mobility required to move large data sets and Virtual Machines (VMs) with ease, speed and efficiency between disparate clouds is fast becoming one of the biggest challenges to face IT today.
With legacy offline, snapshot based or per-VM migration tools the ability to mobilize workloads and large data sets is limited by the time window available for migration, hypervisor lock-in, the amount of data to replicate, the number of VMs that can be migrated simultaneously and the ability to test the migration before execution. All of these challenges severely limit the pace at which migration projects can be completed, increase risk and result in poor workload mobility when the size of the database and number of VMs or applications increases.
The Zerto Solution
Zerto Virtual Replication solves all the challenges of seamless workload mobility today, as everything that makes Zerto Virtual Replication the simplest  solution for disaster recovery also makes it the simplest  solution for migrating VMs, servers, mission-critical applications, and large data sets. With support for private cloud, satellite office, hybrid cloud and public cloud migrations, seamless data migrations and workload mobility is enabled for the following use-cases: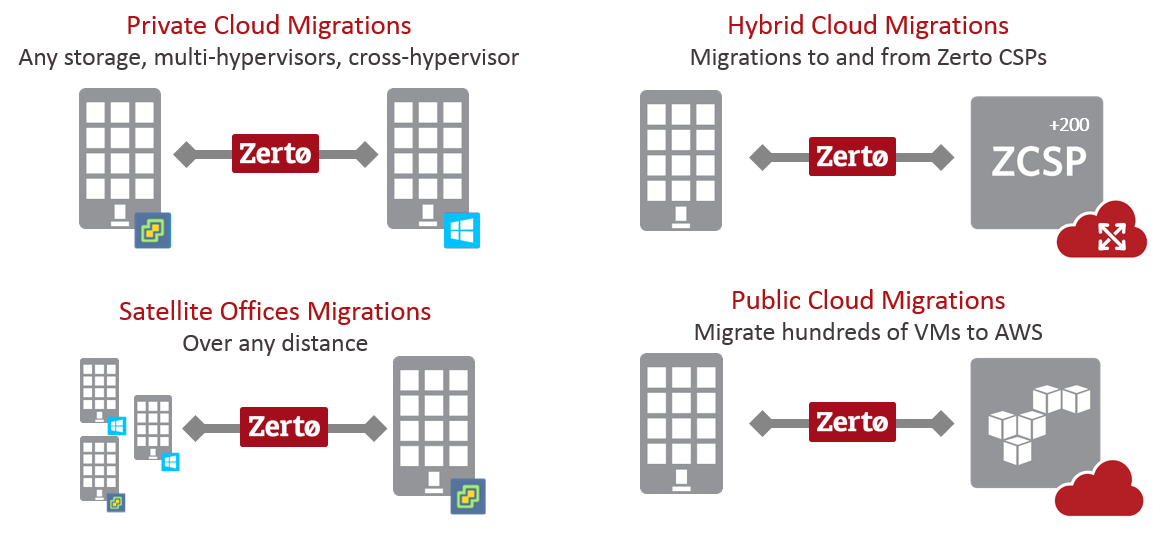 How Zerto solves the challenges of Data Migrations and Workload Mobility
The key features of Zerto Virtual Replication enabling seamless data migrations and workload mobility are:
  Support for any storage, multiple hypervisors, cross-hypervisor replication, hybrid and public cloud
Support for a variety of mission-critical applications including SQL, Oracle, & SAP
  Initial synchronization of large data sets with no snapshots and no performance impact
  Continuous replication delivering Recovery Point Objectives (RPOs) of seconds with the migration data seconds behind production
  No-impact click to test migrations of hundreds of VMs in isolated bubble networks
  Click to Move hundreds of VMs simultaneously with automatic orchestration of the migration process
  Rollback from failed migrations in minutes with commit-policy verification
  Full reporting of testing and migration outcomes with step-by-step playbooks
Zerto Virtual Replication continuously protects VMs replicating block-level changes from within the hypervisor without using snapshots, the replica data is always a few seconds behind production. As no snapshots are used the replication is scalable to thousands of VMs with no performance impact in the protected VMs.
The Zerto Virtual Replication move feature enables tens to hundreds of VMs to be moved simultaneously in just a few clicks by automatically shutting down the source VMs, replicating the last few changes, then powering the VMs on in the recovery site in minutes in a working state with boot ordering and IP/MAC addresses automatically reconfigured in addition to any custom pre/post migration scripts required. This enables seamless workload mobility and large migrations of VMs of any data set size in minutes.
Migration testing allows a data center move or migration to be tested with no-impact in production or break in the replication before the migration takes place, allowing verification of the process and benchmarking of the time taken to move. Commit policies allow the move to be validated before committing the move which allows immediate failback to production and resumption of the protection if any issues arise, a critical part requirement of any migration project.
Summary
In comparison to per-VM, snapshot based or offline data copy methods, Zerto Virtual Replication can migrate hundreds of VMs simultaneously saving significant time in migration projects by moving large data sets and VMs quickly and efficiently. No other solution can match the features, speed and efficiency of Zerto Virtual Replication for migrating large data sets, applications, servers, and workloads in private, hybrid and public clouds making it the best solution for workload mobility.