Migration to Public Cloud
With over 1 million active users Amazon Web Services (AWS) is fast becoming the new norm for many IT services. To capitalize on the benefits of running workloads in AWS many organizations have, or are consideration migration projects for their workloads that would most benefit from running in the public cloud.
The size of the data set and number of the workloads being migrated to AWS varies, but the same key challenges remain when performing migrations to AWS from on premise virtualization platforms like VMware vSphere and Microsoft Hyper-V. These challenges are often:
Existing offline or snapshot based migration solutions impact performance or cause downtime making migrations an out of hours task wasting time, costing money and resources
Migrations are limited to small numbers of VMs simultaneously impacting the project timescales
Migrating large amounts of data to the cloud takes significant time increasing the likelihood of migrations not completing in the time window allocated
Testing of the migration can require significant resources making it difficult and expensive to perform
Testing the migration can sometimes require a complete re-synchronization of the data which is then not test before the migration introducing significant risk
Manual reconfiguration of VM networking is required increasing admin overheads
No reporting of testing or migration projects makes validation of the project a challenge
Migrations are typically performed per-VM, with no consistency groupings of VMs to enable multi-VM application migration
No bandwidth throttling increases the risk of migration projects impacting other IT services utilizing the same IP link and limits the time available for migration or requires dedicated IP connectivity for the project
All of the above challenges make migration projects of on premise workloads and data to the AWS cloud a significant barrier to adoption by requiring significant resources, complexity, planning, implementation and cost.
Migrations to Amazon Web Services
Zerto Virtual Replication solves all of the challenges of migrating any size data set and number of VMs making it an indispensable solution for migrations of on premise workloads to the cloud with AWS. Utilizing simple scalable software that can be installed in minutes with no downtime, Zerto Virtual Replication enables seamless migration projects to be completed in a fraction of the time required by other solutions.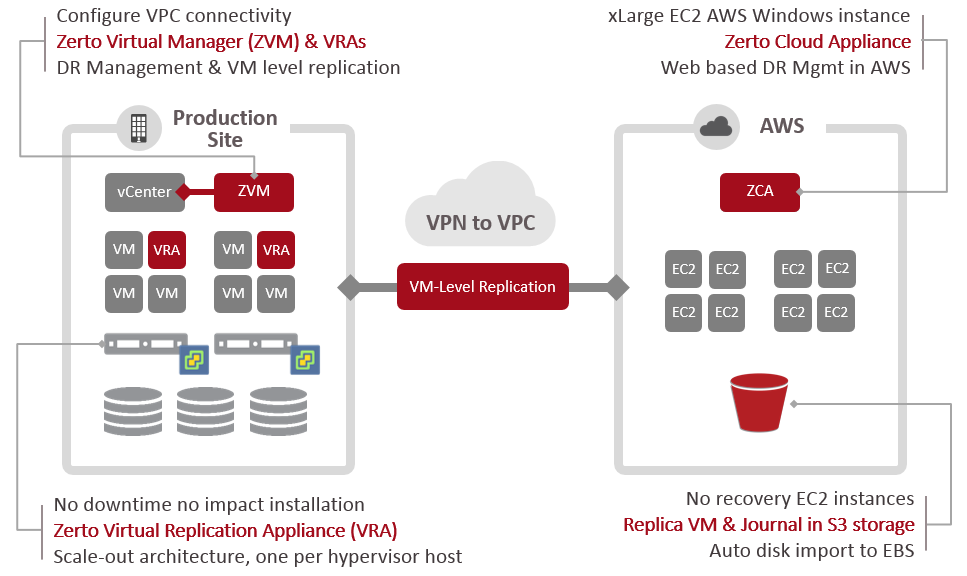 The key benefits of using Zerto Virtual Replication to migrate to AWS are:
Migrate from VMware vSphere 4.0 onwards or Microsoft Hyper-V Server 2012 R2 to AWS
Complete any scale migration project on-time with ease
Initial synchronization without snapshots enabling background initial-synchronization with no impact
Continuous data replication delivers an RPO of seconds
Migrate tens to hundreds of VMs simultaneously with the replica data seconds of lag behind production
Maximum bandwidth usage of the replication configured on a time schedule
Replica data stored in S3 storage and automatically converted to EC2 instances upon move or test
Multi-VM application migrations to the same point in time using Virtual Protection Group (VPG) technology
Automatic IP-reconfiguration with VPC, subnet and security group configuration mapping
Migration testing with no-impact in production utilizing the failover testing capability
Summary
In comparison to per-VM, snapshot based or offline data copy methods, no other solution can match the features, speed and efficiency of Zerto Virtual Replication for migrating tens to hundreds of VMs simultaneously to the cloud with AWS, saving significant time in migration projects by moving large data sets and VMs quickly and efficiently.