Automated DR Testing
A major component of the Zerto Cloud Continuity Platform is DevOps automation via Zerto APIs. Working with world-class IT process management tools like HPE Operations Orchestration is key to allowing for proactive, hands-off IT management between the disparate environments that Zerto protects.
Challenges with IT Processes
Disparate IT infrastructure is alive and well, and here to stay. Consider the new pressures that IT faces.
Hyperconverged systems promise streamlined efficiency by combining storage, compute and networking.
Managed and Public cloud service providers are serious contenders for your hardware budget, because they now offer legitimate options that are on par with traditional on premise IT, but at a reduced cost.
Established hardware vendors that more traditional IT management settled upon as a standard are merged or acquired by another company. The platform may not exist after the new vendor cuts redundancy in their inventory.
With all of these factors, one of the biggest challenges IT departments face is IT process efficiency. IT has to streamline processes with their current systems as well as accommodate these new services and platforms in the future.
Benefits of IT Process automation with Zerto and Hewlett Packard Enterprise Operations Orchestration (HPE OO)
One of the most capable IT process management tools in the industry is HP Operations Orchestration (HPOO). Zerto has been working diligently with HPE and we are developing content packs for HPE OO that will be IT Process automation game changers.
The first free content pack fully automates disaster recovery (DR) failover testing. Imagine being able to automatically meet service level agreements for failover testing by simply adding the Zerto Automated Failover Testing for HPOO content pack to your HPOO studio.
We've done all the hard work, so once you have the content package, just set a few parameters such as, the IP address of the Zerto Virtual Manager, the Zerto Virtual Protection Group you want to automatically test, and then setting the schedule. That's it.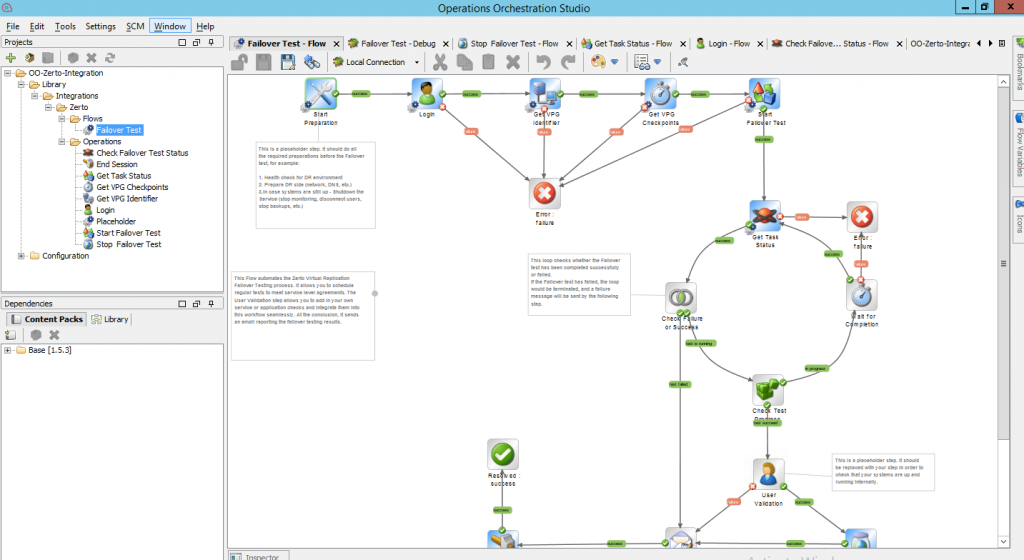 Caption: Zerto Automated Failover Testing HPE OO content package
If you aren't familiar with how Zerto Virtual Replication (ZVR) does disaster recovery testing, the most important thing to know that it is totally non-disruptive to the production environment. So with the Zerto Automated Failover Testing for HPOO content pack, you can automatically do DR testing on your schedule, without concern for disrupting production.
Of course, you'll need HPOO and Zerto already to make the content pack work. You don't have HPOO? No problem, you can download the community edition for free. You don't have Zerto Virtual Replication? No problem, download a free trial today and get automated disaster recovery protection.