Quickly and easily move virtual machines to a new hardware infrastructure, speed up cloud adoption, consolidate datacenters or move workloads to or between clouds. Now through the end of the year, receive 10% off migration licenses.
Based on a foundation of continuous data protection (CDP) with complete automation and orchestration, learn how migrating with Zerto can deliver:
Minimal Business Impact: utilize fail-over test workflows without any impact to the production environment
Faster Migrations: workloads are kept up to date on the migration target offering you the ability to move within minutes
Improved Environment Stability: automated failback configuration ensures the ability to failback quickly
Migration on your mind?
Complete the form and we'll be in touch to discuss how you can take advantage of this offer.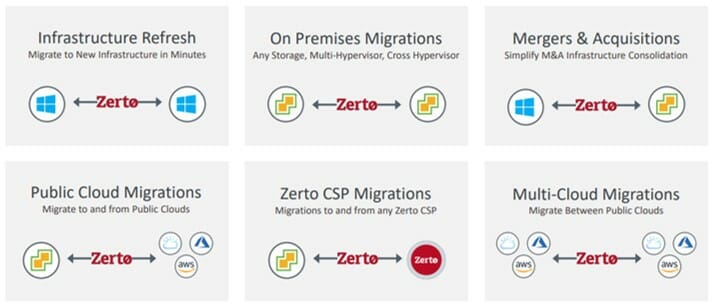 Offer Terms & Conditions
This Offer (the "Offer") is a time limited promotion that grants End Users who wish to purchase Zerto for migration 10% off the list price of Zerto Migration licenses.
End Users who wish to participate in this Offer must purchase a minimum number of Migration Licenses for 100 VMs.
This Offer is subject to change without notice. Zerto reserves the right to cancel, suspend, amend, modify, revoke, or terminate this offer, in whole or in part, for any reason, at any time.
This Offer cannot be combined with any other offers.